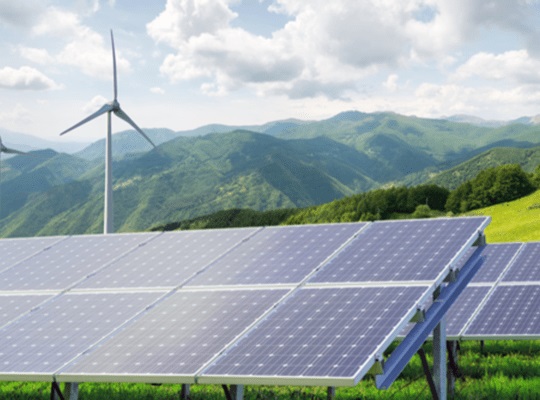 The Indian renewable energy sector is the fourth most attractive renewable energy market in the world. As of October 2018, India ranked 5th in installed renewable energy capacity. According to 2018 Climatescope report India ranked second among the emerging economies to lead to transition to clean energy.
Installed renewable power generation capacity has increased at a fast pace over the past few years, posting a CAGR of 19.78 per cent between FY14–18. The focus of Government of India has shifted to clean energy after it ratified the Paris Agreement. With the increased support of government and improved economics, the sector has become attractive from investors perspective. As India looks to meet its energy demand on its own, which is expected to reach 15,820 TWh by 2040, renewable energy is set to play an important role.
Investments/ Developments
According to data released by the Department for Promotion of Industry and Internal Trade (DPIIT), FDI inflows in the Indian non-conventional energy sector between April 2000 and March 2019 stood at US$ 7.83 billion. More than US$ 42 billion has been invested in India's renewable energy sector since 2014. New investments in clean energy in the country reached US$ 11.1 billion in 2018.
Some major investments and developments in the Indian renewable energy sector are as follows:
Inter-state distribution of wind power was started in August 2018.
In the first half of 2018, India installed 1 MW of solar capacity every hour.
With 28 deals, clean energy made up 27 per cent of US$ 4.4 billion merger and acquisition (M&A) deals which took place in India's power sector in 2017.
In March 2018, ReNew Power finalised a deal estimated at US$ 1.55 billion to acquire Ostro Energy and make it the largest renewable energy company in India.
World's largest solar park named 'Shakti Sthala' was launched in Karnataka in March 2018 with an investment of Rs 16,500 crore (US$ 2.55 billion).
Solar sector in India received investments of US$ 9.8 billion in CY2018.
Government initiatives
Some initiatives by the Government of India to boost the Indian renewable energy sector are as follows:
A new Hydropower policy for 2018-28 has been drafted for the growth of hydro projects in the country.
The Government of India has announced plans to implement a US$ 238 million National Mission on advanced ultra-supercritical technologies for cleaner coal utilisation.
The Ministry of New and Renewable Energy (MNRE) has decided to provide custom and excise duty benefits to the solar rooftop sector, which in turn will lower the cost of setting up as well as generate power, thus boosting growth.
The Indian Railways is taking increased efforts through sustained energy efficient measures and maximum use of clean fuel to cut down emission level by 33 per cent by 2030.
Achievements in the sector
Solar capacity has increased by eight times between FY14-18. India added record 11,788 MW of renewable energy capacity in 2017-18.
A total of 47 solar parks with generation capacity of 26,694 MW have been approved in India up to November 2018, out of capacity of 4,195 MW has been commissioned.
Inter-state distribution of wind power was started in August 2018.
Power generation from renewable energy sources (excluding large hydro) in India reached record 101.84 billion units in FY18 and has reached 107.22 billion units between April 2018-January 2019.
Road Ahead
The Government of India is committed to increased use of clean energy sources and is already undertaking various large-scale sustainable power projects and promoting green energy heavily. In addition, renewable energy has the potential to create many employment opportunities at all levels, especially in rural areas. The Ministry of New and Renewable Energy (MNRE) has set an ambitious target to set up renewable energy capacities to the tune of 175 GW by 2022 of which about 100 GW is planned for solar, 60 for wind and other for hydro, bio among other. As of June 2018, Government of India is aiming to achieve 225 GW of renewable energy capacity by 2022, much ahead of its target of 175 GW as per the Paris Agreement. India's renewable energy sector is expected to attract investments of up to US$ 80 billion in the next four years.
It is expected that by the year 2040, around 49 per cent of the total electricity will be generated by the renewable energy, as more efficient batteries will be used to store electricity which will further cut the solar energy cost by 66 per cent as compared to the current cost. Use of renewables in place of coal will save India Rs 54,000 crore (US$ 8.43 billion) annually.