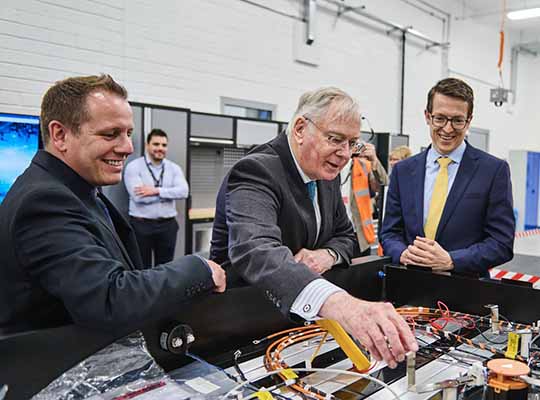 TAE Power Solutions, a new power management subsidiary from fusion energy leader TAE Technologies, has announced the opening of a new UK facility.
The site will be the company's fourth UK location, including the locations inherited from acquisitions of Sprint Power and Eltrium during its launch earlier this year, and will create 20+ new jobs for electrification engineering and test and build technicians. The expansion means TAE Power Solutions now has over 250 employees across locations in Birmingham, Hethel, and Silverstone.
The new site is based at the Black Country Innovative Manufacturing Organisation (BCIMO) on the grounds of the former Dudley railway station. It will enable TAE Power Solutions to operate a groundbreaking new battery prototype-and-test facility, on its path to manufacturing modular battery packs for all forms of e-mobility including cars, trucks, buses, and rail.
TAE Power Solutions is delivering a first-of-its-kind technology to fundamentally improve the efficiency, reliability, longevity, and cost-effectiveness of electric-powered products across e-mobility, battery energy storage systems, fast-charging, and second life applications.
The company's proprietary ACi technology platform is derived from fusion research and integrates low-cost converters and control systems. The platform enables intelligent control of the battery system at the module level, in order to deliver precision control and unlock the full potential of the battery – a foundational step toward mass adoption of electric vehicles and deployment of intermittent renewable energy as dispatchable power.
"The most important – and expensive – part of an EV is the battery," said Kedar Munipella, CEO of TAE Power Solutions. "The battery testing begun by TAE Power Solutions at the BCIMO facility is focused on boosting performance and delivering electric powertrains that are more efficient, reliable, elegant, and sustainable."
Leasing the new site from BCIMO, a not-for-profit company behind the new state-of-the-art research and development facility, TAE Power Solutions' new workshop facility provides an essential capability for building and testing the company's revolutionary new technology in order to prove out the system's capabilities.
Richard Moore, General Manager for E-Mobility at TAE Power Solutions, said:
"We're delighted to be expanding our operations further in the UK, and excited to be onsite at BCIMO's world-class research centre, surrounded by like-minded entrepreneurial businesses. This is a critical next step of our UK operations because it provides physical validation of our new intellectual property. It will also bring significant engineering and manufacturing opportunities to the area and will be instrumental to our goal of bringing innovative power management solutions to market beginning in 2024."
BCIMO's Chief Executive Officer, Neil Fulton said:
"At BCIMO we are at the outset of a journey to lead in areas of transport innovation and so we're thrilled that TAE Power Solutions has chosen our unique national research facility to bring its innovative energy storage, electric mobility, fast charging, and grid efficiency technologies to market. They will be in good company here in Dudley, surrounded by other forward-thinking, innovative businesses."
TAE Power Solutions is currently developing partnerships for rapid commercialisation in the e-mobility market to extend range, efficiency, performance, and faster charging of electric vehicles, as well as for deployment of stationary energy storage in residential, commercial, industrial, and utility-scale electrical grid applications.
Opened only six months ago, BCIMO has created a new transport innovation hub and is host to many leading businesses in its world-class £32m multi-purpose centre. It is located in the heart of the Black Country – an area in the West Midlands that became one of the most industrialised parts of the UK. TAE Power Solutions chose the location for its substantial power infrastructure, exceptional return-to-grid capability, and its central location near the company's existing UK headquarters.
Last week, accompanied by dignitaries from the Dudley Metropolitan Borough Council, His Royal Highness, the Duke of Gloucester, toured the site, meeting with the TAE Power Solutions team.
TAE Power Solutions launched in January whilst making two strategic UK company acquisitions to fortify its entry into new markets: Sprint Power, one of the largest transport electrification specialists in Europe, focusing on electrical systems integration and high voltage driveline, and Eltrium, a design and manufacturing company specializing in the production of energy storage systems, power distribution, and electronic assemblies. Through these acquisitions, TAE Power Solutions gained an early foothold in existing projects, including APC18 CELERITAS, a program for advanced battery systems with BMW and other project partners.
The mission of TAE Power Solutions is to enable a world in which the world's best power management systems run on the company's proprietary technologies to enable a cleaner electric future.