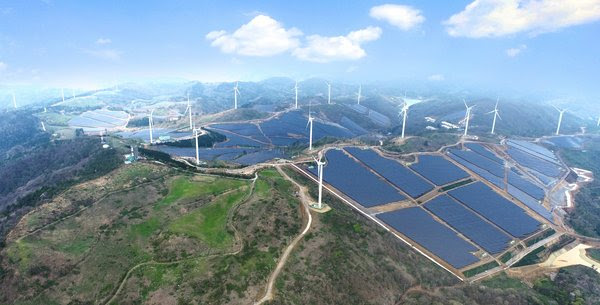 YEONGAM, South Korea, Aug. 28, 2020 Sungrow, the global leading inverter solution supplier for renewables confirmed that the Company supplied a 93 MWac project with its outdoor central inverter solutions. The project, recently put into commercial operation, is in Yeongam, South Jeolla province, South Korea. It is noteworthy as one out of the only two solar projects of approximate 100 MW capacity in the country, and milestone application as of the largest hybrid energy systems in the region.
Part of the Largest PV+Wind+Storage Complex in South Korea
Located in a 2.96 million square meters mountainous site in Daemyeong, Yeongam, about 340 km south of Seoul, the PV project is a part of the South Korean largest hybrid energy system integrating PV, wind and energy storage, featuring agility within a complicated landform and high humidity environment.
The PV plant is expected to generate 120 GWh of clean energy per year, enough to power 30,000 households and equivalent to eliminating carbon dioxide by 56,000 tonnes. Daemyung Energy, the project's developer, will sell renewable energy certificate (REC) to Korea South-East Power for solar power over 20 years, expected to raise about 30 billion Korean Won (24.9 million USD) per year.
A wide portfolio of Sungrow outdoor central inverter solutions ranging from 1.25 MW to 3 MW were deployed on-site, offering an optimal performance given the advanced three-level topology technology. Equipped with multiple MPPTs, the solutions are ideal for mountainous installations. Armed with a high protection level of IP65 and a built-in PID recovery function, the solutions maintain unprecedented yields for the plant even in high humid conditions. With a smart control unit (SCU) and being compliant with the power plant controller DER-AVM, the solutions enable timely online analysis and troubleshooting.
Untapped Potential
"The successful intake of the landmark project has enabled Sungrow to accumulate valuable experience and laid a solid foundation in the field of solar energy in South Korea. The challenge posed by the pandemic outbreak won't stop Sungrow from providing the best effort at creating customer value and decarbonizing local economies," said Hoseob Kim, Country Manager of Sungrow South Korea.
Sungrow has over 1 GW of its inverter solutions deployed in South Korea as the leading solar player in both the utility-scale sector and distributed generation segment across the nation. The Company has established a comprehensive local team offering responsive sales, technical support and after-sale service, ideally meeting local mounting demands – the South Korean MOTIE (Ministry of Trade, Industry and Energy) updated that installations of renewable energy will be increased from 12.7 GW to 42.7 GW and will account for 20% of the total energy by 2030.
Sungrow also shows reliable and robust momentum in the global landscape as the only inverter supplier ranked 100% bankability by BloombergNEF for two consecutive years. Its latest 1H financial report shows a 55.57% year-on-year growth rate in revenue while the cumulative installations reaching 120 GW as of June 2020.