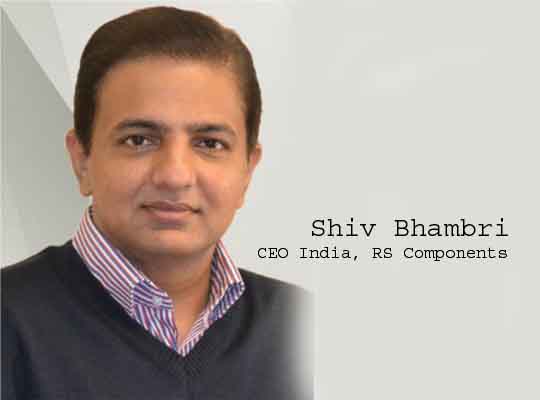 Urja Daily: How does RS Components create an ecosystem & make a difference in the electronics sector?
Shiv Bhambri: RS Components is a global omnichannel solutions partner for industrial customers. In addition to offering more than 500,000 industrial and electronic products, sourced from 2,500 leading suppliers, we are involved in the design, building and maintenance of industrial equipment and facilities.
RS Components also provide design engineers and students around the globe with a range of free-of-charge software design tools, technical data and development resources through our DesignSpark platform. In this community, members share their projects and connect with other engineers and students.
Urja Daily: What are the new areas in which RS Components is Planning to explore and function?
Shiv Bhambri : Our vision is to be the first choice for our customers and suppliers. For customers, it means offering innovative services and solutions and delivering a differentiated and seamless one-stop shop experience when they interact with us. For our suppliers, this means being easy to work with and creating value for supplier brands.
Urja Daily: Explain us on RS Components' RS PRO SMART-Q queue management system? Mention the qualities of it.
Shiv Bhambri: RS PRO is our own-brand product range that features more than 60,000 high-quality and competitively priced industrial and electronic products. Every product in the RS PRO line goes through rigorous inspection and testing against international industry standards to assure customers of the high quality of products. Products can be used in a variety of environments and applications. An example is the RS PRO SMART-Q System.
The RS PRO SMART-Q system uses green and red LED lights combined with an acoustic signal to indicate when it is safe for people to enter a room or a space. RS PRO SMART-Q beacon tower is self-contained, which makes it easy to dispatch anywhere, whether it's a retail space, a waiting room or a hallway.
The operator can choose between manual or automatic control. In manual, there is a remote key fob which you press to change the light from red to green. The user controls the flow of the queue into the store or shop. In Automatic mode, the unit uses a timer to control the flow of a queue. This timer can be adjusted from 2 to 12 seconds, and changes from red to green, staggering the flow of people into a store or shop.
Queue management systems are used in a wide range of industries to manage the flow of people in a room or in a space. It is used by businesses to ensure the safety of all customers at all times, while complying with healthy and safety measures — especially during these times.
Urja Daily: Brief us on the high-end productivity tools upgraded by RS Components recently & its highly versatile IIoT developments box.
Shiv Bhambri: DesignSpark PCB Pro is a professional design engineering software, offered by RS Components. It represents a holistic solution for manufacturing professionals who want to build cutting edge PCBs and turn their ideas into a final product. The software includes a range of design tools and resources that can be easily integrated into businesses' existing design workflow. We are currently in the process of a staggered roll out of PCB Pro across markets.
We also introduced the 4ZeroBox IIoT unit from Italian manufacturer TOI (Things on Internet). It is a versatile modular unit that can be installed into both legacy and modern industrial equipment, allowing rapid integration with sensors, actuators and cloud services. 4ZeroBox is expected to find applications in a wide variety of industrial contexts, from production plants to industrial refrigeration, waste management, precision agriculture, transportation and logistics, energy and utilities, retail, and smart homes and buildings.
Urja Daily: Give some light on the recently signed MoU between RS and Maxim Integrated.
Shiv Bhambri: RS and Maxim Integrated signed a global franchise agreement to extend the reach of the Maxim product portfolio to customers, including design engineers and buyers around the world, as well as give visibility within the DesignSpark engineering community, making it easier for customers to design using the latest innovative products from Maxim. DesignSpark currently has over 1 million members globally. The agreement demonstrates our commitment to offering customers a wide portfolio from leading global suppliers.
Urja Daily: What are RS Components' future roadmap for next 6-12 months?
Shiv Bhambri: We have delivered a resilient performance despite the challenges faced by suppliers, customers, and teams in the past year and we have in place the building blocks to accelerate future growth. We continue to focus on the physical and emotional wellbeing of our employees and strengthening our digital capabilities and customer service, to introduce and make critical technologies and solutions accessible to customers.