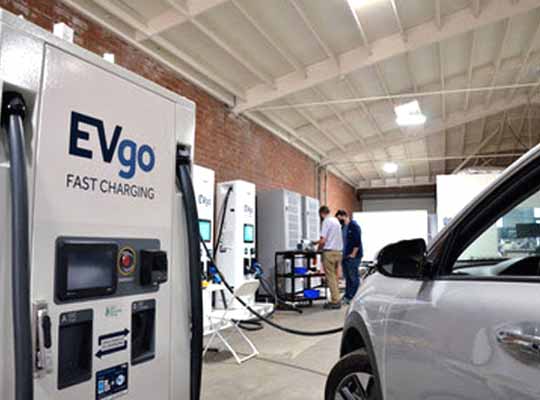 LOS ANGELES – EVgo has announced it has opened a new EVgo Lab in El Segundo, California. The 4,000 square foot facility provides the company's team of engineers, technologists, and partners a space for testing hardware, software, and vehicle technologies for the current and next generations of charging infrastructure and EV models.
"The EVgo Lab is powering the innovation to meet the significant future demands for EV charging infrastructure," said Ivo Steklac, EVgo's Chief Operating Officer and Chief Technology Officer. "The facility is enabling our engineers and technologists, along with our EVSE and OEM partners, to design, develop and safely test the comprehensive charging solutions of today and tomorrow."
The critical research, development and testing completed at the EVgo Lab ensures the reliable operation of the Company's fast charging network and enables partners to bring EVs and their charging solutions to market with confidence. As a technology focused company with a dedication to integrating innovation with validation and testing, EVgo has an industry-leading 98 percent uptime across its network of over 800 charging sites that serve more than 235,000 customers across 34 states.
The EVgo Lab serves as an innovation hub and proving ground for the latest generation of charging equipment, including market-leading power-sharing high power charging technology, new and existing electric vehicles, and new products and applications such as EVgo's Access and Reservations programs. The EVgo Lab is specifically designed and equipped to perform verification and certification of EVSEs (electric vehicle supply equipment), including cables and connectors, the latest modular power-sharing equipment, and critical EV and EVSE interoperability testing.
The Company recently certified its next-generation power-sharing EVSE with development and testing accomplished at the EVgo Lab. This future-proof technology and other expandable solutions are capable of delivering power well in excess of capabilities of even the next generation of EVs, ensuring that EVgo stations can meet tomorrow's increasing kW demands. As the next generation of fast charging EVs are poised to hit the market, EVgo is collaborating with a broad array of automakers to test their vehicles' interoperability capabilities with cutting-edge hardware and software solutions.
EVgo's EVSE and OEM partners are currently able to access the EVgo Lab to ensure EVgo network compatibility with their newest models, including Level 2 AC and 350kW DC Fast chargers, including those with power-sharing capabilities. EVgo's hardware team continues to innovate on new designs, including its integrated Tesla Connectors currently deployed at over 100 EVgo stations with active expansion programs underway.
EVgo is the only U.S. network currently capable of charging all three fast charging protocols, including CHAdeMO, SAE Combo or CCS, and Tesla.