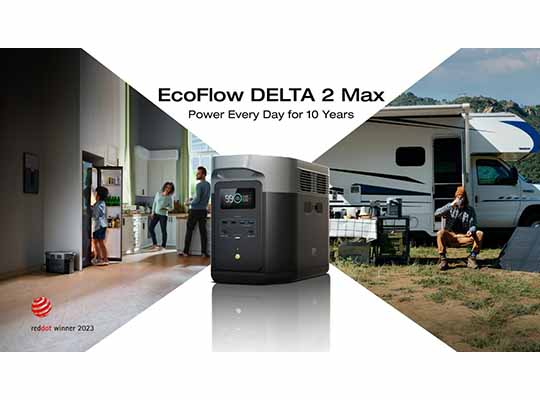 EcoFlow, a leading eco-friendly energy solutions company, today launched the DELTA 2 Max, a portable power station designed for 10 years of home or on-the-go use. With a base capacity of 2,048Wh, which can be expanded up to 6,144Wh with two extra batteries, users can customise their energy solutions based on their specific energy needs.
"The DELTA 2 Max represents our commitment to offering eco-friendly and cutting-edge energy solutions to meet the needs of customers who are looking to lead a more energy-efficient and environmentally-conscious lifestyle, as the cost of living rises and energy crises continue," said Magda Teresa Partyka, Communications Manager of Europe at EcoFlow. "With its fast-charging capability, impressive lifespan, and high output, the DELTA 2 Max is the perfect companion."
Up to 10 Years of Everyday Use
The DELTA 2 Max uses premium LFP batteries, providing the longest-lasting battery life currently on the market. On average, most comparable products in the industry lose around 20% of capacity after 500 charging cycles. However, the DELTA 2 Max will only drop to this level after 3,000 charging cycles – six times as long as its competitors.
That means the DELTA 2 Max can provide reliable power for up to 10 years when used once a day. In addition, EcoFlow also offers a 5-year warranty for the DELTA 2 Max, for even more reliability.
Industry-leading Fast Charging
Featuring EcoFlow's patented X-Stream technology, the DELTA 2 Max boasts industry-leading fast charging speeds. With an AC input of 2300W and a maximum solar input of 1000W, the DELTA 2 Max can be charged by AC from 0 to 100% in 81 minutes or by solar from 0 to 100% in 2.3 hours.
In addition, if users need to store a great amount of power in a limited time, the DELTA 2 Max can be charged by AC from 0 to 80% in just 53 minutes – four times faster than the industry norm. What's more, the DELTA 2 Max can be charged from 0 to 80% in only 43 minutes[i] with AC and solar dual charging – making it the ideal portable power station for life's unplanned moments.
Reliable Energy Source for Almost All Appliances
The DELTA 2 Max is equipped with a 2400W AC output that can power 99% of home appliances including hair dryers, water heaters, microwaves, and air conditioners. It can also power up to 13 devices simultaneously, even while charging. With the X-Boost mode, the DELTA 2 Max can even power some appliances up to 3100W. This is especially important for people who live off-grid, as the high output of the DELTA 2 Max enables them to enjoy the same level of convenience as a traditionally-powered home.
Lower Energy Bills with EcoFlow PowerStream and More
The DELTA 2 Max is compatible with the EcoFlow PowerStream Balcony Solar System, which harnesses and converts solar energy for home use. With the PowerStream which can generate around 1,039kWh[ii] of electricity per year, DELTA 2 Max stores the surplus solar energy captured during the day and helps users save more on electricity bills.
Weighing 23kg, DELTA 2 Max is 30% lighter than the industry average on the current market and easy to move around the home or carry on the go. The DELTA 2 Max functions quietly when emitting no more than 30db when the input or output is less than 500W within a 50cm range, making it suitable for indoor use.
Price and Availability
The EcoFlow DELTA 2 Max will be available for purchase on May 31st on EcoFlow's website and via Amazon, featuring the DELTA 2 Max and 400W Portable Solar Panel bundle, which will enjoy a €149/£139 discount and be retailed at €2,899/£2,699. The DELTA 2 Max will retail for €2,099/£1,899 and will be available with the DELTA 2 Max Extra Battery, which will retail separately for €1,499/£1,349.
On EcoFlow's website, from May 25th to 31st, users can get 500 EcoCredits by subscribing to the EcoFlow newsletter on DELTA 2 Max's product page. After subscription, users will receive double EcoCredits by purchasing DELTA 2 Max or any of its bundles from May 31st to June 6th. The collective EcoCredits will allow users to redeem a DELTA 2 Max bag. On Amazon, from May 31st, the first 100 customers can get a free DELTA 2 Max bag by purchasing DELTA 2 Max or any of its bundles.