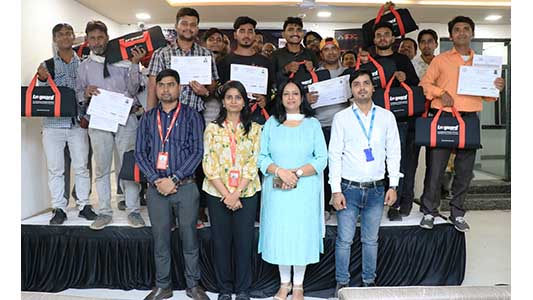 New Delhi: In a bid to provide an upgraded workforce to the electric vehicle (EV) industry, Automotive Skills Development Council (ASDC) has undertaken a new initiative in collaboration with Livguard Batteries Private Limited to upskill two and three-wheeler mechanics as EV service technicians, aiming to provide a skilled workforce to the electric vehicle (EV) industry. The pilot project, which commenced on December 1, 2022, has now successfully concluded. The program implemented a Recognition of Prior Learning (RPL) approach, conducting a 10-day training in Agra and Firozabad, Uttar Pradesh. The training focused on enhancing the skills, understanding of new technology, and repair techniques of 300 two and three-wheeler mechanics in the EV industry.
Speaking about the initiative, Arindam Lahiri, CEO, of ASDC emphasized the immense potential of India's youth and the importance of tapping into their talents through skill training programs. As the world's largest motorcycle market, India faces a significant shortage of skilled manpower in the motorcycle industry. By providing training opportunities, the country can bridge this skills gap and meet the industry's demands.
"Upon completion of the training, participants were awarded an NSQF certificate, wage-based incentives, a tool kit, and one year of accident insurance coverage. These certifications, tool kits, and incentives provide participants with opportunities to secure employment in the industry or pursue entrepreneurship with the help of bank loans" Lahiri added.
"Mr. Gurpreet Bhatia, MD& CEO from Livguard Batteries Private Limited expressed gratitude for ASDC's support in piloting the upskilling program for two and three-wheeler mechanics as EV service technicians in Agra and Firozabad." The primary objective of the training program was to protect and enhance the livelihoods of 300 mechanics, enabling them to work in the growing EV market.  Additionally, participants also benefited from soft skills and communication training alongside EV training based on ASDC standards. By equipping service technicians with the necessary skills and expertise, this initiative contributes to the growth and advancement of the EV industry in India while also improving the livelihoods of mechanics in the sector.