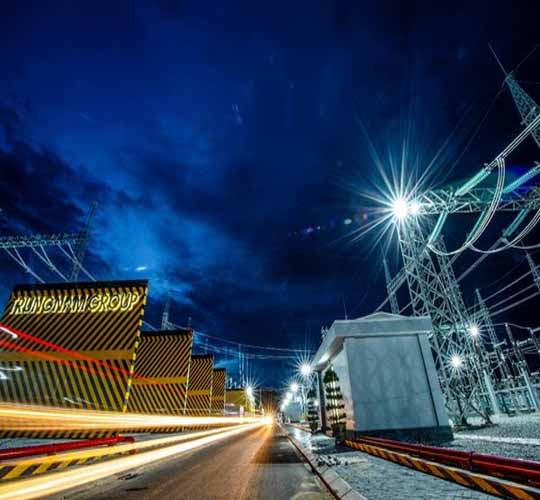 HO CHI MINH CITY, Vietnam, Oct. 14, 2020 – Trungnam Group officially inaugurated the 500KV transformer station and 220/500KV Grid line, and the 450 MW Trung Nam Thuan Nam solar power plant on October 12th, 2020 in Phuoc Minh commune, Thuan Nam district of the south-central Ninh Thuan Province. It's a magnificent event and key project in celebration of the 14th Ninh Thuan provincial Party's Congress, 2021-2025 terms.
Ninh Thuan province has been a favourite destination for many renewable energy projects with total capacity up to 2,000MW since 2018. The surge investment in the new energy projects in the province was successful developed due to the State's policy and mechanism as well as local authorities in supporting renewable energy projects.
According to the National Load Dispatch Centre, 80 solar power plants with total capacity of 4,464MW had been built in the country up to June 30, 2019. These projects, mostly in Ninh Thuan province, were already approved by for supplying power to the national grid. However, the national power grid was seriously overloaded with mass operation of series solar power plants in short term in Ninh Thuan and Binh Thuan provinces. Many already built solar power plants could not supply power to the national grid due to overloaded power transmission. Some plants were forced to cut down their working capacity with an average reduction from 30 per cent to 35 per cent, even 60 per cent in keeping the national grid working safety.
The reduction of operation capacity at some plants created many difficulties for investors in reimbursement and operation cost as well as funding for expansion of investment.
The overloaded power transmission system in Ninh Thuan clearly unveiled the insufficiency of synchronous investment in the national grid infrastructure and at locals, thus resulting in insufficiency of synchronous investment at local and limit the development of renewable energy projects.
Despite of efforts from EVN in improving the national grid and power transmission system over past years, slow administrative procedure and land clearance at locals had delayed the commencing construction of grid projects. While renewable energy projects including solar power plants need only six months to finish, a 220KV or 500KW power transmission project would take from three to five years to complete.
Knowing the difficulties in development of power transmission projects, Trungnam Group decided to invest in improving the national infrastructure of power transmission systems, saving the cost for other renewable energy investors from reducing operation capacity. The Group estimated that the reduction of renewable energy plants in the province will not be fixed at 60 per cent due to poor power transmission, but the figure would increase.
As the top leading investor in renewable energy in Ninh Thuan province, Trung Nam drastically proposed an investment of the 500KV transformer station and 220/500KV Grid line and the 450 MW Trung Nam Thuan Nam solar power plant with technical supports and encouragement from the provincial people's committee and EVN.
Following the proposal, Trungnam Group was approved as an investor of the 500KV transformer station and 220KV/500KV power transmission system, in combined of a 450 MW solar power plant under the document No 831/UBND-KTTH sealed on March 18th, 2020, and the decision for investment proposal No 79/QĐ-UBND on April 3rd , 2020.
Trungnam Group then acceleratory completed legal procedure and fund as well as manpower for rapidly commencing the project through days and night working shifts in handing over the project in time.
Covering an area on 557.09ha including 17km power transmission line from Phuoc Minh commune in Thuan Nam district to Vinh Tan commune of Tuy Phong district of Ninh Thuan Province, Trungnam Group had fixed the construction schedule from May of 2020 to the fourth quarter of 2020.
With a target of completing the project in 102 days, Trungnam Group had finished land clearance process in 45 days with the hard working days from 8,000 labourers and engineers in handing over the project as proposed time of completion.
On the occasion of inauguration of the project, Chairman of Trungnam Group, Mr. Nguyen Tam Thanh was honourly awarded the Labour Order, Second Class from the State for completing the solar power plant and power transmission project, contributing to the development of renewable energy project in Ninh Thuan Province in particular, and to the course of the country's social republic and defence.
Trungnam Group also greatly contributed to help local community as a role and responsibility of a potential investor in Ninh Thuan Province. The Group, in co-operation with the provincial Fatherland Front, Thuan Nam communal people's committee and provincial association of poor patients, had donated 102 houses worth 5.1 billion Vietnamese dong to poor households in the province during construction of projects here.
1. General information of project


Trung Nam Thuan Nam Solar Power plant
Power Grid and transmission system
Overall Capacity
450MW
Power Transmission Station: Capacity 2 x 900MVA, Dz 500kV, 15.5km long; Dz 220kV, 2km
Proposal operation time
September 30, 2020
September 30, 2020
Proposal output capacity
1 billion kWh — an equivalent 1 GWh


Commencing of construction day
May 15, 2020
May 15, 2020
Inauguration
Oct 10th, 2020
Total investment capital
12 trillion of Vietnamese dong
Two trillion Vietnamese dong
Manpower
7,000 people
Project Zone (project study area)
900 hectares
2. Information of Solar Power Plant, Power Grid and Power transmission systems


Items
Figure
Specifications
A
Solar Power Plant


Solar Panel
1.400.000
455 & 460Wp — Mono 156 Cell


Inverter
102 sets
SIEMENS (Germany) 3 phase- 4,560kW


Combiner box
2.770 boxes
20 input/box


Power transformer
4,560kVA
3 phase, oil immersed transformer


Bracket
23.900 rows
10 per cent automatic revolve and 90 per cent fixed system


Wire
6.000.000m
Panel connection to overall box


33kV Internal power line and operation systems, SCADA
B
Power line and power transmission system


Transformer station 33/220/500kV
Two transformers
SIEMENS – GermanyOverall capacity 1,800MVA


500kV Grid — Double-circuit line
2km
500 kV transformer, Thuan Nam Solar power at Van Phong — Vinh Tan switched point


13.5km
Van Phong – Vinh Tan switched point in connection with Vinh Tan thermal power plant


220kV Line — 4 circuits
2km
500kV Thuan Nam Transformer Station connection with 220kV Vinh Tan — Thap Cham circuit
The 500kV and 220/500kV power line project in combined with the 450 MW Trung Nam Thuan Nam solar power plant generates more than 1 billion kWh — an equal of 1GWh power from renewable enegy (the first year will be 1.2 billion kWh), and contribute to ease overloaded power network in Ninh Thuan province va South-central coastal region. Two transformer stations of the project, with total designed capacity of 1,800MVA, in combined with power line network will help improve the operation of the national grid system in the South central region.
The operation of the 500kV transformer station and 220/500kV power line network in combination of the 450 MW Trung Nam Thuan Nam solar power plant will play important roles as below:
Contributing to the implementation of Resolution decision of No 115 of the Government on building Ninh Thuận province a national centre for renewable energy.
Contributing to the use of overall capacity of renewable energy plants in Ninh Thuan and Binh Thuan provinces, avoiding forced reduction of power generation from solar power plants that would cause to the loss of trillions Vietnamese dong of investors each year, and improving business environment at the province as commitments between local authorities and investors as well as dealing with power shortage in nationwide in context forced reduction of renewable energy projects.
Supplying an added power capacity of more than 1 billon KWh to the national Grid system each year, boosting the development of renewable energy projects in replacing fossil fuel generated power plants and promoting environment protection.
In awareness of Resolution Decision No 55 of the Political Bureau in promoting the involvement from private sector in renewable energy development and power transmission infrastructure system.
The operation of the 500kV transformer station and 220/500kV power line network in combination of the 450 MW Trung Nam Thuan Nam solar power plant is an essential strategical project in serving the development of power transmission of Ninh Thuan province in particular, and the central coastal region in general, as well as national power transmission infrastructure system. Trungnam Group's project was built with an investment of 12 trillion Vietnamese dong with a 450MW solar power plant, 500kV power transformer station and more than 17km of 500kV, 220kV power transmission system from Phuoc Minh commune, Thuan Nam district, to Vinh Tan commune, Tuy Phong district, Binh Thuan province.
The completion and operation of 500kV transformer and 220/500kV power transmission system in combination with 450 MW Trung Nam Thuan Nam solar power plant was seen as a historical milestone of Vietnam energy industry in the context of private sector investing in power transmission system that earned improvement from local to central governments.
Along with successes in investment of renewable energy projects including solar power, wind power, Trungnam Group has been developing gas fired power projects following the proposal of Resolution No 55-NQ/TW of the central government in strategy plans in power development of Vietnam to 2030, vision 2045 that issued by Political Bureau, offering priorities in diversifying models of renewable energy investment as well as preferential policy in operation of renewable energy projects and effective utilities of renewable energy new energy, clean energy and gas driven power plants.
On the other hands, Trungnam Group is also an investor in the Ca Na integrated port in Ninh Thuan province with a proposal completion time for full operation of pier No 1 for hosting cargo ships from 70.000 to 100.000 DWT in December of 2022.
The port project would help contribute in transport equipment, especially giant equipment for renewable energy projects and gas burnt power plants in Ninh Thuan province and south central coastal region as well as Central Highlands region.
Trungnam Group, who had experience in operation and building renewable energy projects and available manpower, strongly confirmed that it will be a potential investor in building big gas power projects in the future.
TRUNG NAM Renewable energy Joint stock company (TRUNGNAM GROUP): Trungnam Group is a company working in three fields: Energy–Infrastructure–Real Estate. With a labour force and staffs of 1,500 people and 16 years' experience, Trungnam Group had earned trust and confidence and capabilities in high quality projects in context of design and landscape. In the field of energy, Trungnam Group has seen as the top leading investor in Vietnamin renewable energy, and a front-runnerbusiness building renewable energy in combination of power transmission system. Trungnam Group has been building many energy projects in Ninh Thuan, Tra Vinh, Gia Lai, Dak Lakwith a goal of being a top leading investor in private sector in energy industry in Vietnam. With slogan "Sustainable investment –Future Development", Trungnam Group will always strongly commit its moves ahead in building famous brand name of a big group in the Southeast Asia region.
For more information please visit: https://trungnamgroup.com.vn/