Communication plays an important role in day to day operation and mission critical situation in energy sector. All leading energy (generation, distribution) companies have own dedicated & public communication network. Communication network helps them to smooth operations and create a safer environment. With distributed power generation and the evolution of smarter grids gaining popularity, communication is becoming even more important in the world of utilities.
Purpose of having Utility communication is essentially a communication system that can provide not only safe but also reliable and secure transmission of voice, data, and video across LANs (Local Area Network) and (Wide Area Network) WANs continuously.
All energy & utilities environment are hazardous areas and need very reliable communication network to ensure realtime, accurate communication, data transfer. Production sites are having SCADA- Supervisory Control and Data Acquisition, which is used for monitoring, controlling plant activity. This is based on Ethernet interface.
There are two types of communication network used in energy- petrochemical sector. (i) Wired (ii) wireless. Both technologies are used in all segment & they complement each other. Wired technology is based Optical Fiber, Ethernet based system and provides faster data transfer while Wireless technology have own benefit and used for onsite communication majorly.
Oilfield communication includes technologies such as very small aperture terminal (VSAT) networks, fiber optic-based communication networks, microwave communication networks, cellular communication networks, and tetra networks. Power Line Carrier (PLC) is other widely used communication methodology.
Fiber Optics
Fiber optic sensors and cables are commonly part of Enhanced Oil Recovery (EOR) methods used to improve efficiency during upstream production, downstream transport, and refining of crude oil and natural gas. One popular EOR technique is Steam Assisted Gravity Drainage (SAGD), which uses DTS (distributed temperature sensing) to provide oil and gas operators with a reliable and cost-effective way to better manage reservoirs, wellbores, and completions.
Many oil and gas companies rely on proper installation and accurate operation of their systems. OTDR technology is often used when a fiber line is installed in an oil well, and to check the line before a DTS run to ensure the most precise readings are made.
Power generation plants to HO or regional office communication is based optical fiber technology and many power transmission companies have fiber based communication network along with transmission line. OPGW is popular technology used in power transmission.
Offshore Wireless Communications
Oil and gas companies are also using wireless technologies to gather and transmit critical data that aid in managing drilling equipment, pumping systems, and level monitors. Wireless technologies are integral in voice and data communications between offshore rigs and ships, and mainland operations, as well.
Reliable communications services – whether it is broadband satellite, high-speed Internet, SCADA (Supervisory Control and Data Acquisition), Wi-Fi, or VHF radio backhaul services – help in one other critical way. They help create a safer work environment for personnel.
Traditional base station transceivers usually consist of some antenna(s) being fed signals via long runs of coaxial cable or waveguide, and usually also contain protective elements like lightning arrestors (polyphaser for example) and may also contain filters, combiners, amplifiers etc… These elements must all be operating within their design specifications in order to maintain a robust communication link between the mainland and offshore equipment. Portable, handheld Cable/Antenna Analyzers or hand held Vector Network Analyzers are ideal for installation, maintenance, and troubleshooting of these systems.
More modern base station transceivers are typically more integrated, with the majority of the required hardware residing within a single radio unit which is mounted on the tower near the antenna(s). These systems are typically fed digital data signals through fiber optic links, although in some cases they may be fed digital signals through CAT 5e or CAT 6 twisted pair cables. These types of systems will require more over the air (OTA) testing to verify that the transmitted signals are as expected. A hand held Spectrum Analyzer with signal analysis capability is a very useful instrument for verifying proper operation and/or troubleshooting these types of systems if a problem does occur.
Smart Grid
Wireless technologies are also being used onshore by utility companies, as part of smart grids that help improve customer service and better control energy consumption. A smart grid system consists of home area networks (HAN), field area networks (FAN), and wide area networks (WAN). Each requires robust signal coverage to avoid interference. Utilities must have tools to effectively plan their systems, rapidly diagnose problems and maintain network security.
Indoor and outdoor coverage mapping tools provide utility companies with powerful and sophisticated analysis capabilities directly suited for their smart grid networks. These tools can aid in network planning, optimization, and maintenance of network infrastructure, saving utilities time and money.
Specific goals of the Smart Grid
• Allowing consumers to actively participate in optimizing operation of the system
• Reduce the environmental impact of the electric supply system
• Add robustness to the network by introducing new self-healing technologies
• Integrate 'smart' appliances and consumer devices as part of the system
• Dynamic optimization of grid resources
• Development of standards for communication and interoperability of equipment connected to the grid
Test Needs
The ability to analyze signal integrity in a wireless environment has long been realized by cellular carriers, satellite companies and other network providers as a crucial element in deploying and maintaining a secure system. As utilities deploy the Smart Grid with various wireless technologies, the need to access signal coverage and sources of interference will grow exponentially. Additionally, cable and antenna analyzers are needed to install, provision, maintain and troubleshoot wireless base station cable and antenna systems.
Utilities need to be able to analyze communication problems quickly and insure that their wireless network continues to run under a variety of conditions.
Telecom Test and Measurement (T&M) Instruments in Energy & Utilities
The utility communication market is expected to witness significant growth across the world soon owing to automation requirement. This communication system allows well-regulated and efficient transfer of utilities such as power or gas or hydro.
In order to keep communication network live, power utilities companies need to maintain communication network using various test and measurement instrument. Some of the widely used T&M and their application areas are listed here.
OTDR:
OTDR stands for Optical Time Domain Reflectometer & is required to test optical fiber link, detect fault location in plant and between plants, its HO, RO etc.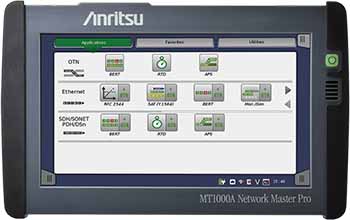 OTDR must be battery operated, so that it can be used in field with out main power and low weight, easy GUI, with additional options such Connector inspection probe or scope, Optical Power Meter etc.
Anritsu MT9085A is latest OTDR with Fiber Visulizer feature and very useful to track all components. Faults in fiber link. MT9085x OTDR support 1310nm, 1550nm, 1625nm wavelength and have more than 40dB dynamic range.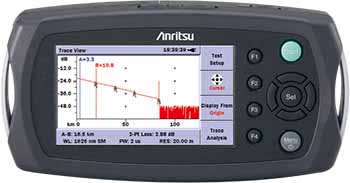 While MT9090A Network Master is very small- micro OTDR with 9V battery operation and can be carried in any condition/ location.
Optical Power Meter, Optical Loss Test Set:
Optical Power Meter, Optical Loss Test Set are smaller battery-operated testing tool used by engineer to check fiber loss and optical cable quality.
Ethernet Analyzer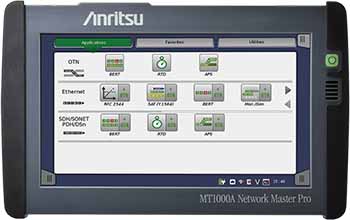 Ethernet Analyzer is used testing data rate (1G/10G) of communication link and used during network commissioning. Data from PLC, SCADA is huge and need to reach server for further reporting, analyser and Ethernet interface is used here. Ethernet Analyzer also helps to verify incoming bandwidth, latency, throughput offered by internet service provider.
Anritsu Network Master MT1000A is right tool for this application. This have SEEK feature where testing can be automated with single button operation. This means even less skilled technician can do measurement. Network Master MT1000A support SDH/pDH , Ethernet , OTN in single unit.
Spectrum Analyzer & Interference Analyzer
VSAT, Satellite based network need proper frequency alignment between earth station and satellite. Spectrum Analyser helps to do so. When Interference option is added it work as interference analyser. Due to various wireless technology transmission, interference is very common problem and challenge in wireless communication. Spectrum Analyzer helps to identify suitable cellular network available around plant area or township and identify interference frequency and locate it with suitable antenna.
Spectrum Analyser have coverage mapping capability and helps to find grey/ dark point- where communication is not possible. Network planning need to consider these points and provide alternate communication mode in these areas. It becomes important during mission critical communication.
Anritsu Spectrum Master MS2711E, MS2712E, MS2713E are some of popular instruments used in this industry for various application.
Anritsu also offer Remote Spectrum Monitor (RSM), Multiport Spectrum Analyzer which can be used for Uplink or Downlink monitoring in Earth station.
Cable & Antenna Analyzer/ VSWR Meter- Site Master
Many RF cables are used in communication network and sometimes transmission / reception signal is not good due to poor cable quality or connector or brake in cable. Cable Antenna Analyser helps to qualify suitable cables and ensure communication is live round o clock.
Radio Communication Analyzer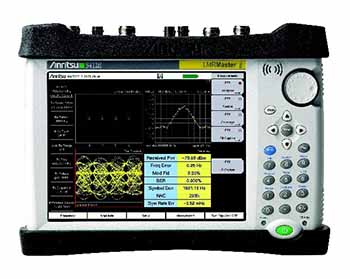 Land Mobile Radio is very important, old, reliable communication technology used in power plants. Now Analogue and Digital technologies are available and widely used in various plants. LMR Master is All in One Radio Communication Analyser supporting TETRA, P25 NXDN etc technologies. LMR Master have signal generator option which is useful in Radio maintenance time.
LMR Master S412E is used for coverage mapping inside plant and outside plant.

Power Meter & power sensors
Power Meter and sensors are required in checking transmitter power and improve coverage., optimize transmitters.
Summary:
Most of plants/sites are located outside main town or remote location and plant temperature is extremely high. So, communication infrastructure must be able cope up this environment. At the same time test instrument must be able to accept these extreme environment conditions. Certain sites might have high humidity, heavy machinery as well which impact smooth communication (wireless specifically). Therefore there should be wired and wireless communication (hybrid) network and it should be updated with technology & time. With digitization and automation acceptance in industrial sector, we expect there will be more and more connected machines inside plant and these machines will generate huge data. This data will be used for further report and analysis for better efficiency and operation of plants.
The utility communication market is expected to witness significant growth across the world in the near future owing to automation requirement. This communication system allows well-regulated and efficient transfer of utilities such as power or gas
As per Verified Market Research Report Utility Communication Market was valued at USD 10.96 billion in 2019 and is projected to reach USD 31.27 billion by 2027, growing at a CAGR of 15.1% from 2020 to 2027
Internet of things (IoT), Industry 4.0 , Machine Learning will modernise plants and need a secure communication network- internal and external. Power grids being connected all time need better cyber security arrangement and must be ready to face associated cyber threats.
A big challenge for utilities is the development of two-way communication systems that can support a large range of applications and requirements. Anritsu is contributing to this effort with test and measurement instruments that make it easier and faster to enable Smart Grid communications.