For reliable data security in utility meters, a dependable power source is essential. A battery that can perform consistently, even in widely fluctuating ambient temperatures and for an extended service life, can help reduce maintenance costs. During automated meter reading, a battery that can provide high pulse currents, even after prolonged periods, is necessary. Choosing the right battery is crucial to ensure uninterrupted data collection and reduced risk of downtime or data loss.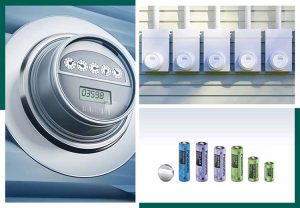 Our Lithium batteries are an ideal choice for applications with varying temperature requirements and long-term usage needs. Utilizing Panasonic's unique CR technology, the battery voltage remains consistent over extended periods of time. With a lifespan of over
15 years, they provide dependable power to your applications. Our batteries have stable internal resistance and low self-discharge.
They also do not require additional capacitors to avoid passivation.
New and powerful: CR-LAZ Lithium battery (under development)
The new CR-LAZ (A 17500 size) has a nominal capacity of 3000 mAh. This makes it particularly suitable for applications where battery replacement is difficult. It has an excellent high pulse discharging performance and a wide operating temperature range.
Find more information at our website: https://industry.panasonic.eu/lithium-batteries-metering-applications