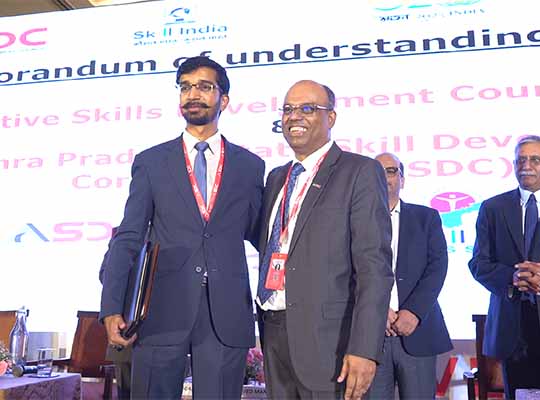 Automotive Skills Development Council (ASDC) has inked a Memorandum of Understanding (MOU) with Andhra Pradesh State Skill Development Corporation (AP SSDC) during an event at New Delhi.  The primary objective of this MOU, ASDC is going to implement the Skill Training Programs for students and Training of Trainers (TOT) in Automotive sector across Andra Pradesh. This partnership aims to establish a Centre of Excellence dedicated to the automobile industry, develop customised skill development programs for young individuals, initiate joint certification efforts, provide industrial training opportunities, and offer capacity-building programs for trainers. The overarching aim is to bridge the skills gap in the automotive industry.
The MoU exchanged between ASDC and APSSDC by Dr Vinod Kumar V, IAS, MD & CEO, APSSDC and Mr Arindam Lahiri, CEO, ASDC in presence of Mr. Vinod Aggarwal, President ASDC, F R Singhvi, Vice President ASDC, Vinkesh Gulati, Treasurer ASDC, Mr. Ved Mani Tiwari, CEO NSDC and Mr Arun Lawaniya, Deputy Lead – State Initiatives and Capacity Building, ASDC
On this occasion, Dr Vinod Kumar V, I.A.S., MD & CEO, APSSDC highlighted the paramount importance of a skilled workforce in the automotive sector amid rapid technological advancements. With the industry embracing innovations like electric and autonomous vehicles, the demand for highly trained professional soars. APSSDC and ASDC's strategic collaboration addresses this demand, nurturing a workforce poised to thrive in the ever-evolving automotive landscape.
Dr. Vinod Kumar V's words underscore the urgency and significance of this partnership, bridging the industry's skills gap. By pooling their expertise and resources, APSSDC and ASDC usher in an era of excellence and innovation, aligning seamlessly with automotive advancements. This alliance empowers the workforce to embrace the challenges and opportunities of the automotive sector's exciting future.
Mr. Arindam Lahiri, CEO, ASDC, expressed his delight about the partnership with APSSDC, emphasising its significance in meeting the evolving needs of the automotive sector. He highlighted the industry's transformative phase with innovations like electric vehicles and automation, stressing the importance of a skilled workforce that can adapt to these changes.The collaboration aims to provide comprehensive solutions, offering young individuals industry-recognized certifications and real-world exposure through industrial training. Mr Lahiri underlined the strategic focus on capacity-building programs for trainers, ensuring long-term workforce quality and growth. It represents a crucial milestone in securing the sector's competitiveness and adaptability in our rapidly changing world.